House Ways and Means Reconciliation Package: Mixed Bag for Carbon Capture

September 13, 2021 | Legislation

The following statement can be attributed to Carbon Capture Coalition Public Policy & Member Relations Manager Jessie Stolark:

"As the budget reconciliation package moves forward, it is critical that Congress advance comprehensive and bipartisan climate solutions that achieve net-zero emissions, while preserving and creating high wage jobs. While the Ways and Means Committee version of the GREEN Act released on Friday incorporates the two top priorities of the Carbon Capture Coalition, it also includes damaging provisions that will substantially reduce the effectiveness of the 45Q tax credit.

"While the legislation helpfully lowers the annual carbon capture eligibility thresholds in the 45Q program, it pairs those lower thresholds with harmful new percentage carbon capture requirements applied at the level of the whole facility. Not only does this essentially re-write 45Q, the requirement runs fundamentally counter to how projects are developed and will block deployment of carbon capture technologies at both industrial and power generation facilities. By imposing a facility-level requirement, many industrial carbon capture projects will become ineligible to access the tax credit for retrofits to manage hard-to-abate industrial emissions. Power generation projects that seek to capture emissions from a particular unit at a larger power plant also risk becoming ineligible under this provision.

"In addition, the bill rightly recognizes the need to increase 45Q credit values for direct air capture technologies, yet it fails to provide vitally important increases for carbon capture projects in industry and power generation, where higher credit values are essential to realizing widescale deployment. The exclusion of the increased credit value for industrial sectors runs directly counter to President Biden's American Jobs Plan and the administration's climate, energy and jobs priorities.

"The Coalition appreciates inclusion of its top two priorities in the legislation — a multiyear extension and a direct pay option for the federal 45Q tax credit, extending the commence construction window for 45Q through 2031 and providing the option of direct pay at the full value of 45Q for any project beginning construction before January 1, 2032. These provisions provide excellent value to the U.S. taxpayer in terms of emissions reductions, innovation and job creation, given that their cost is estimated by Congress to be less than one half of one percent of the Green Act's total price tag. Adding urgently needed higher 45Q credit values for carbon capture projects in industry and power generation will only add marginally to the cost, especially in the context of very large investments in other technologies in the legislation."

"Congress now has the opportunity to deliver an estimated 13-fold increase in deployment of carbon management technologies and between 210 and 250 million metric tons of annual emissions reductions by 2035 by combining the extension and direct pay provisions for 45Q now in the GREEN Act with the bipartisan CATCH Act (H.R. 3538), which increases credit values in 45Q to $85 per metric ton for capture at industrial facility and power plants.

"The graphic below highlights proposed levels of federal investment in enhancements to the 45Q tax credit in comparison to proposed investments in other key clean energy and industrial incentives in the House Ways & Means reconciliation text."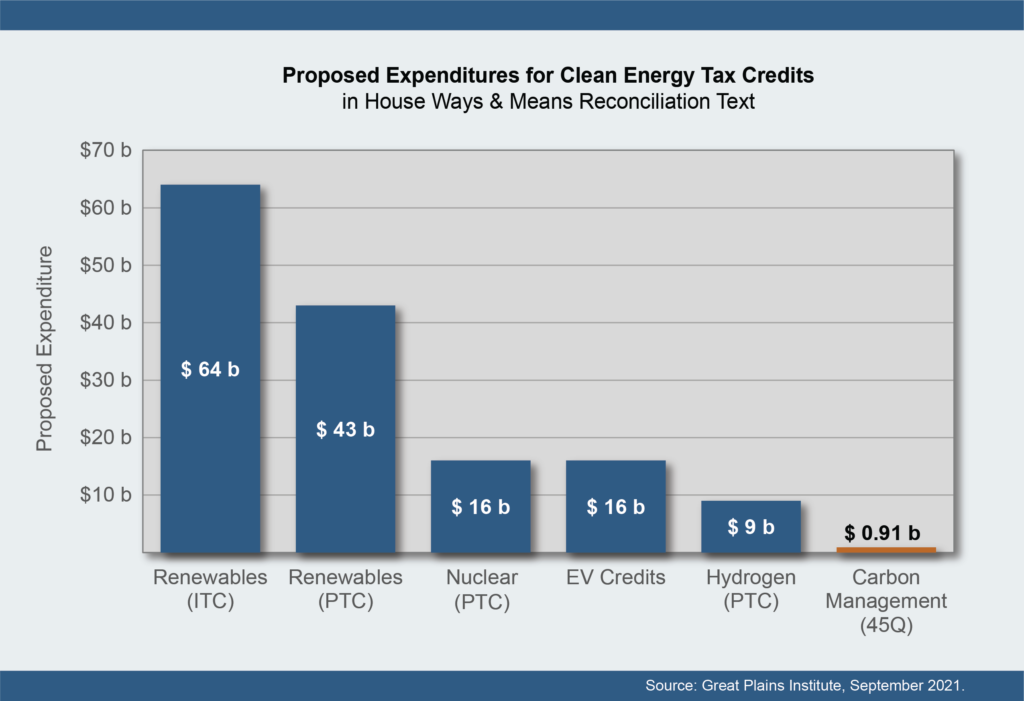 "The Coalition is eager to continue working with members from both sides of the aisle to improve the GREEN Act and to build upon the significant commitment to carbon management contained in this and other bipartisan bills in the 117th Congress. Failure to enact a comprehensive carbon management agenda imperils the Biden Administration's goal of net-zero emissions in the power sector by 2035 and broader industrial decarbonization by midcentury."
###
The Carbon Capture Coalition is a nonpartisan collaboration of more than 80 businesses and organizations building federal policy support for economywide deployment of carbon capture, removal, transport, use, and storage. Our mission is to reduce carbon emissions to meet midcentury climate goals, foster domestic energy and industrial production, and support a high-wage jobs base through the adoption of carbon capture technologies. Convened by the Great Plains Institute, Coalition membership includes industry, energy, and technology companies; energy and industrial labor unions; and conservation, environmental, and energy policy organizations.
---
Stay Informed & Sign Up to Our Mailing List
Sign up here to receive the latest news and information regarding carbon capture.