Carbon Capture Coalition Statement on EPA's Announcement of $48 Million for States to Scale Geologic Storage of Carbon Dioxide

On November 2, the Environmental Protection Agency (EPA) announced the allocation of $48 million for states to establish Class VI primacy programs. Class VI wells are used to inject carbon dioxide (CO2) into deep geologic formations solely for the purpose of permanently storing it. EPA can grant primary enforcement authority—referred to as primacy—to individual states, territories, or Tribal nations, which delegates authority to administer certain injection well classes under the Underground Injection Control (UIC) program in accordance with federal regulations. Importantly, states, territories, or Tribal nations can be approved for this delegation of primacy only when their regulations meet or exceed the federal UIC requirements. The Class VI program oversees the permanent storage of CO2 and ensures that wells are appropriately sited, constructed, tested, monitored, funded, and closed once CO2 injection activities are completed. EPA has already granted primacy over other well classes (I–V) to many states.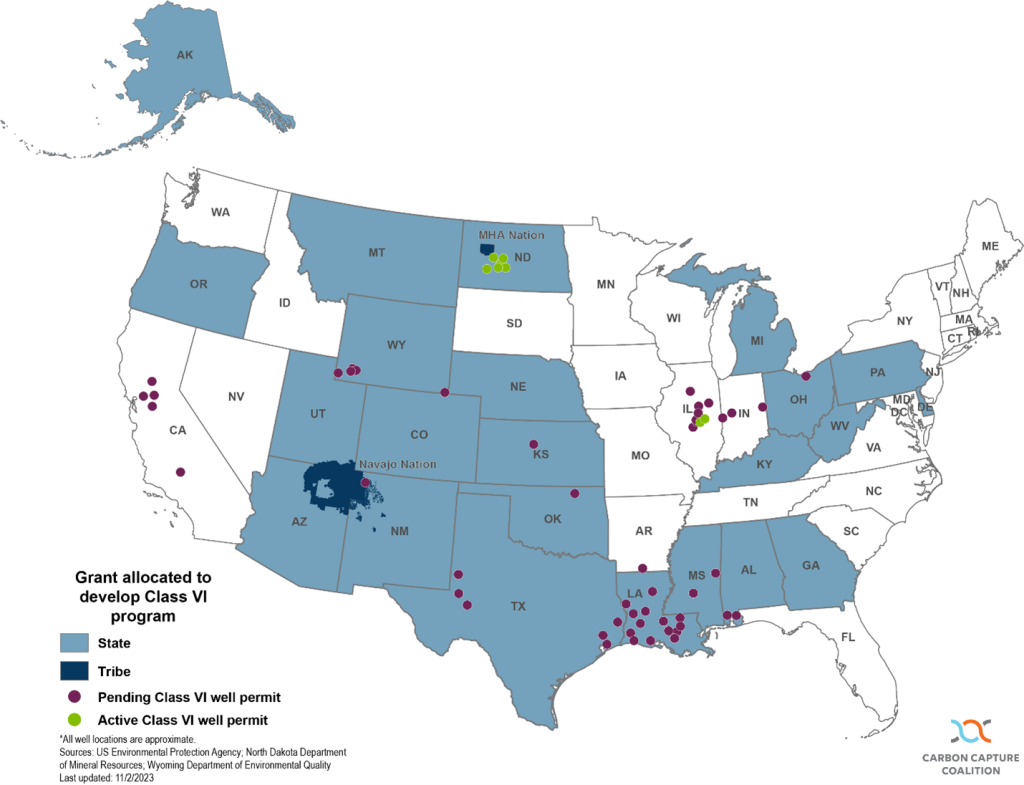 The following statement may be attributed to Jessie Stolark, executive director of the Carbon Capture Coalition:
"The Carbon Capture Coalition welcomes the announcement from EPA that they are making available $48 million to 25 interested states and Tribal nations to pursue primary enforcement authority over Class VI wells. The funding for these grants was provided under the Coalition endorsed SCALE Act, which was enacted in 2021 as part of the Bipartisan Infrastructure Law and positions the federal government to play a central role in leveraging private capital to build climate-essential CO2 transport and storage networks.
"This announcement is a major step forward in ensuring that interested states have the resources to prepare primacy applications. Additionally, this funding will act as a catalyst driving the development of climate-essential carbon storage sites. This investment prepares EPA and states with the tools necessary to effectively review state primacy and individual well applications within a reasonable and predictable timeframe, providing the certainty to encourage necessary private investment.
EPA is the lynchpin in scaling safe, permanent geologic storage. In the year since the widely-supported enhancements to the 45Q tax credit were enacted, there has been a marked increase in Class VI well applications and expressed interest in state primacy. As of today, 58 projects have a total of 169 pending Class VI well applications at the EPA; 36 of these pending projects are in states that have been allocated grants.
"Delegating Class VI primacy to states may allow for more efficient permitting of projects as it places decision-making on individual well applications in the hands of practitioners with deep understanding of a state's specific CO2 storage resources and geology. However, the Coalition recognizes that states and EPA regulators are the best determinants of a state's capacity and ability to implement Class VI primacy programs and the Coalition advocates equally for increased resources for both federal and state permitting authorities."
###
The Carbon Capture Coalition is a nonpartisan collaboration of more than 100 companies, unions, conservation and environmental policy organizations, building federal policy support to enable economywide, commercial scale deployment of carbon management technologies. This includes carbon capture, removal, transport, reuse, and storage from industrial facilities, power plants, and ambient air. Members of the Coalition work together to advocate for the full portfolio of policies required to commercialize a domestic carbon management sector and inform policymakers as well as stakeholders on the essential role this suite of technologies must play in achieving these shared objectives.    
---
Stay Informed & Sign Up to Our Mailing List
Sign up here to receive the latest news and information regarding carbon capture.