Carbon Capture Facts: October 2018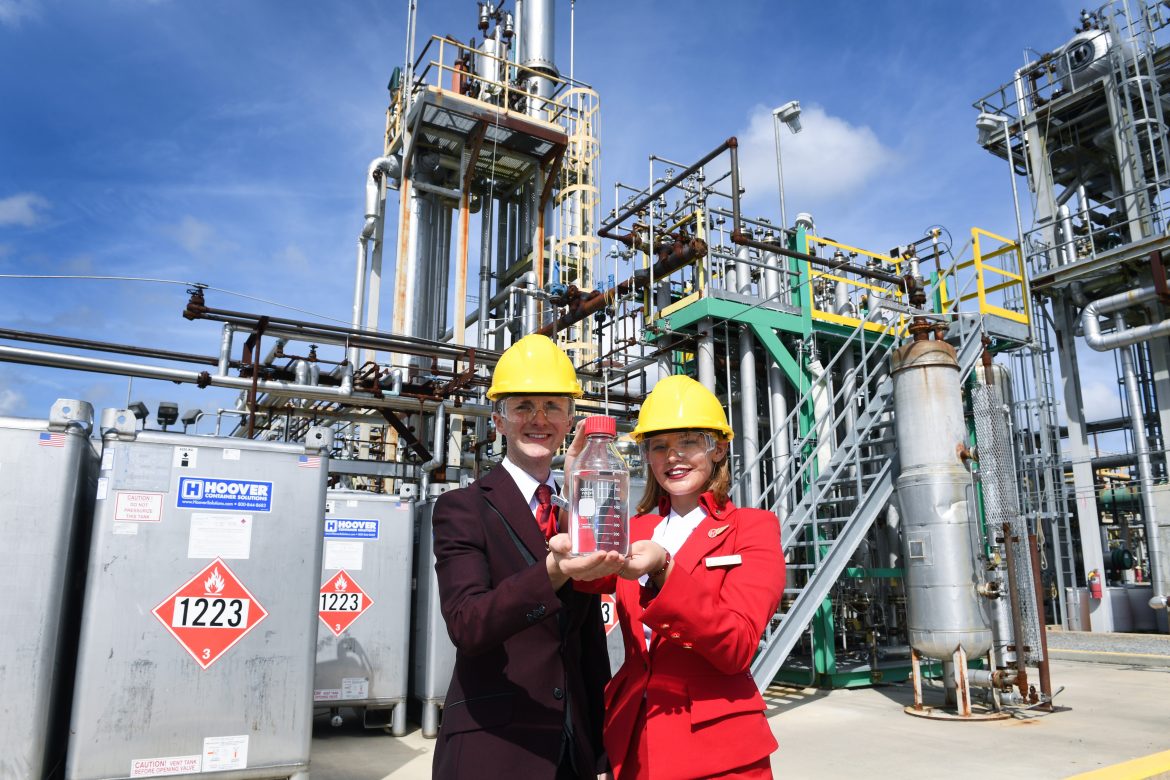 Carbon Capture and Industrial Emissions
Carbon capture technologies have been successfully deployed for nearly a half century at commercial scale in the U.S. to capture emissions across a number of industrial sectors, including natural gas processing, hydrogen and fertilizer production, industrial gasification, and fermentation in ethanol production.

In 2016, Emirates Steel retrofitted the world's first steel plant with commercial-scale carbon capture technology in the United Arab Emirates.
Earlier this month, LanzaTech and Virgin Atlantic partnered to fly a 747 across the Atlantic using a 25 percent blend of jet fuel produced from carbon emissions captured from a steel plant in China. Carbon Capture Coalition participants LanzaTech and Arcelor Mittal are now constructing a commercial-scale bioreactor to produce ethanol using waste carbon emissions from a steel plant in Belgium.
Norway and Belgium also have projects underway to deploy carbon capture technology at cement plants.
Future projects could also expand the number of existing commercial carbon capture projects in sectors such as petrochemicals, fertilizer production and refinery hydrogen production.

Captured carbon dioxide (CO2) from industrial facilities can provide new revenue streams for these industries, while helping them remain competitive in a lower-carbon future. New jobs can be created through CO2 utilization and infrastructure development in both energy producing and manufacturing states and regions alike.
The potential for widespread deployment of industrial carbon capture technologies is significant. Some industry sectors such as ethanol, fertilizer and natural gas processing have relatively low costs of capture and use fully commercial technology. For these industries, recent congressional reform of the 45Q tax credit for CO2 storage and beneficial use provides a powerful incentive to finance carbon capture projects and attract private investment into CO2 pipeline infrastructure. For other sectors such as cement and steel production, the costs of carbon capture are higher, and capture technologies are only now being deployed in those industries. However, as we have seen with wind, solar and other clean energy technologies, with each successive project built, technology and project developers and investors learn from experience how to improve performance and increase efficiencies, thus bringing down costs which, in turn, accelerates wider deployment of the technology as project developers learn from each successive project.
Fast Facts
Carbon Capture Coalition participants Third Way and the AFL-CIO (along with the Council on Competitiveness) released a new report this month, "Industry Matters: Smarter Energy Use is Key for US Competitiveness, Jobs, and Climate Efforts."

The report found that "the industrial sector is America's biggest end-use emitter of greenhouse gases (GHGs)" and that "in 2016 industry was responsible for 1,894.8 million metric tons (MMT) of carbon dioxide equivalent (CO2e), or 29% of the U.S total."
While the United States has cut carbon emissions substantially from the power sector in recent years, other industry sectors have not achieved comparable reductions.  Not only will this potentially put long-term emissions reduction goals out of reach, but the U.S. could lag behind other countries like China in terms of catalyzing technology innovation.
The report concluded that, "For the foreseeable future, the only way to deal with a significant portion of industrial emissions will be to capture, potentially utilize, and permanently sequester them."
According to a Financial Times story cited in the report  "…state-owned enterprises in China's heavy industry sectors, including cement and steel, have begun considering adding equipment to existing plants that would allow them to capture about 90 to 95 percent of their carbon emissions."
A new OECD analysis cited in a story in Axios this month projects that greenhouse gas emissions from concrete production and metals extraction and processing will account for twenty percent of global GHG emissions by 2060.
Why This Matters
Carbon capture helps reduce both industrial and power sector emissions. Indeed, carbon capture is the only clean technology capable of decarbonizing major industries such as steel, cement, fertilizer, pulp and paper and petrochemicals.

Congressional reform of the 45Q tax credit

represents an important first step in helping U.S. industries to ramp up carbon capture deployment. However, more action is needed, including incorporating incentives for CO2 pipelines into national infrastructure legislation so that industrial states and regions of the country have access to infrastructure to transport captured CO2 for beneficial use and permanent storage, as well as expanding federal support for research, development and demonstration of capture technology and carbon utilization in key industrial sectors.
U.S. trading partners and American states, cities and businesses are adopting explicit emission reduction targets, clean energy goals and other policies that will shape their investment and procurement decisions.
With additional federal leadership, key U.S. industrial sectors can rise to the challenge of reducing carbon emissions, protecting and growing high-wage jobs, and helping maintain American leadership in these critical technologies in the decades ahead.
---
Stay Informed & Sign Up to Our Mailing List
Sign up here to receive the latest news and information regarding carbon capture.